About the Doctor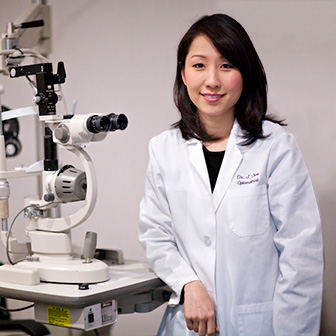 Dr. June Choe, has been practicing optometry since 1999. She received her Bachelor of Science in Biology at Loyola College in Maryland and graduated cum laude in 1994.
She went on to complete her Doctor of Optometry degree at the University of California, Berkeley School of Optometry in 1999. To further her optometric training Dr. Choe studied under multiple clinical settings in a referral based surgical center working with secondary and tertiary ophthalmologists in the treatment of ocular disease and co-management of refractive surgeries at the Magruder Surgical Center in Florida. She has also had the privilege of completing an ocular disease externship at the Beijing Medical University in China. Her other interests include specialty contact lenses and pediatric examinations.
Dr. Choe is certified by the National Board of Optometrists for the treatment and management of ocular diseases. She is also certified by the Drug Enforcement Administration for controlled substances.
Dr. Choe is licensed to practice optometry in Georgia and North Carolina, She has practiced corporate and private practice optometry for the last twenty years. She is an affiliate member of Milan Eye Center and Woolfson Eye Institute. In her free time, she enjoys spending time with her family. Although her native language is English, she is also fluent in Korean.
Latest News
Holiday Eye Safety
by Dunwoody Eyecare
Your Eyes Are A Precious Gift--Protect Them During The Holidays
"I want an official...